Rovers
A retro Space Opera hack of World of Dungeons: Turbo
It's a big galaxy all right, but most folks are content to sit in the mud at the bottom of a gravity well, selling each other widgets and busted dreams. Not us--we're OUT THERE, making a living with our wits, fists, and guts, looking for the next system and the big score. They call us pirates, mercenaries or worse, but we call ourselves Rovers and the galaxy is ours for the taking. As long as the Empire doesn't catch up with us…
Rovers is a light-spirited hack of John Harper's World of Dungeons: Turbo that recalls Traveller® and other golden age games of making a living on the edge of respectability.
Players portray scruffy anti-heroes taking dangerous and possibly illegal jobs to earn the money to support their wild, freebooting lifestyle. The rules include everything you need for extended sandbox play, including starship design, world generation, and trade rules.
Rovers includes a checklist to help you build your own interstellar Empire. Will it be a vibrant young empire, a new empire built on the ashes of a fallen predecessor, or a collapsing and decadent playground of the corrupt? And just why does the Empire like swords so much?
Rovers is a free download released under a Creative Commons license.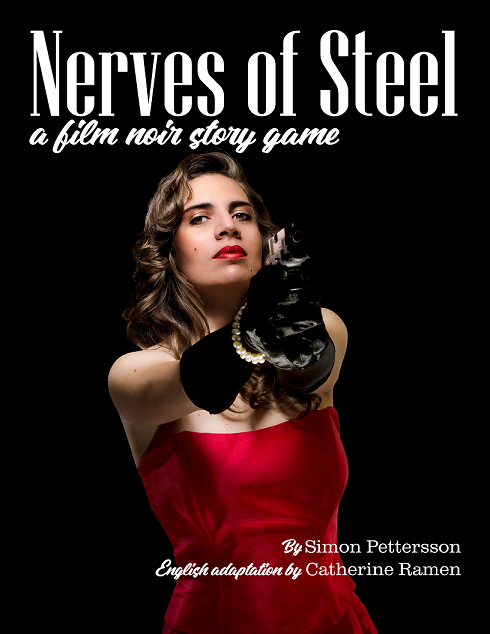 Nerves of Steel
A Film Noir Story Game
The clock was somewhere between far too late and far too early. I was sitting in my office with a chewed-up cigarette in my mouth, a glass of whiskey in front of me and two in my stomach...
Nerves of Steel (Nerver av stål) is a story game by the Swedish designer Simon Pettersson, presented here in an English edition edited and expanded by Catherine Ramen
Using unique story-telling rules, 3 to 4 players can create their own classic era film noir in a few hours: a world of grey and black, populated by tarnished heroes, ruthless gangsters, and amoral femme fatales.
This edition includes optional rules to tackle the "neo-noir" of the 1970s and later, plus expanded material on the sources and influences of film noir.
Nerves of Steel is a free download released under a Creative Commons license.